Dignity at Work Training
$15.00 = 1yr access & certificate
Help create the workplace free from harassment and bullying that everyone deserves.
Description
In 2017 an estimated that 61 percent of U.S. employees are aware of abusive conduct in the workplace, 19 percent have experienced it and another 19 percent have witnessed it.  This is according to a survey by the Workplace Bullying Institute.
Bullying and harassment can have a serious impact on an individuals wellbeing. So as a responsible employer you have a moral duty to ensure all staff are treated with dignity.  There are also legal obligations and financial incentives from the creation of a workplace free from harassment and bullying. Bullying and harassment lead to higher staff turnover and lower productivity.
Providing dignity at work means creating an environment that is free from both bullying and harassment and this course helps you communication positive messages and ensure all staff members understand what is and isn't acceptable.
---
Learning Objectives
|  Understand what Bullying and Harassment are
|  Identify bullying and harassment at work
|  How to prevent bullying and harassment at work
|  Appropriate responses to complaints of bullying and/or harassment at work
---
---
Course Content
Section 1 | Bullying
What is bullying
What is NOT bullying
Communication and body language
Examples of bullying
Section 2 | Harassment
What is harassment
Categories of harassment
Sexual harassment
Grievance procedure
Section 3 | Preventing Bullying and Harassment
Dignity at Work Charter
Roles
Responding to a complaint of bullying
Investigation and outcome
When a bullying complaint is upheld
---
Why take the Dignity at Work course?
The United States Labor Law enables employees to sue employers for creating a "hostile work environment".  A hostile work environment exists when due to discrimination, a workplace becomes difficult or to work in.
29 states have introduced workplace anti-bullying bills.
California businesses have needed to train supervisors on how to identify abusive conduct as part of their sexual harassment prevention training, since Jan. 1, 2015,  
---
Ideal For
All staff.
---
Dignity at Work Certification
|  Requires 80% of more in the final short assessment
|  Option to retake if required
|  Candidates are then emailed their CPD Accredited certificate
---
What Dignity at Work training includes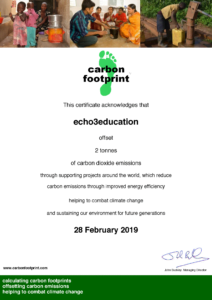 | Accelerated learning – 35 minutes  
| Complies with legislation
| Complete anytime anywhere
| 12 months access to 
| Digital certificate emailed  on successful completion
| The energy used to create and deploy this course is offset
---
Info@echo-3.co.uk | Tel: +44 
131 661 8253